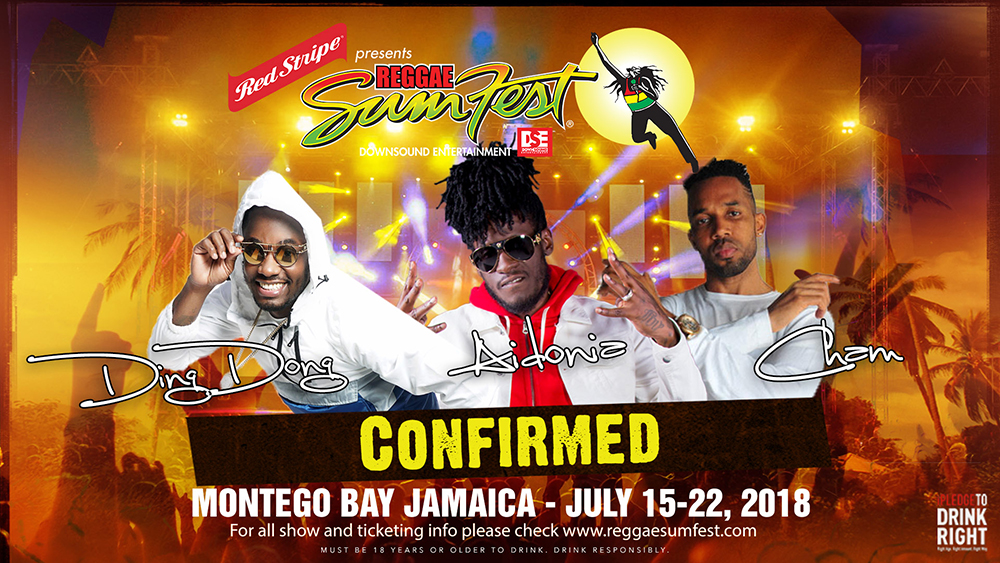 For over a quarter of a century as the Caribbean's largest long-standing music festival, Reggae Sumfest returns to Montego Bay, Jamaica with a heavy-hitting artist lineup featuring the world's top reggae and dancehall artists.
Friday night (July 20) is the ultimate dancehall takeover with both emerging and iconic lyricists including Popcaan, Aidonia, Bounty Killer, Sizzla, Spice, Tommy Lee Sparta, Agent Sasco, Ding Dong, I-Octane, Stonebwoy and more.
Saturday night (July 21) will feature show-stopping performances from reggae's biggest names like Damian "Jr. Gong" Marley, Beres Hammond, Maxi Priest, Cham, Capleton, Raging Fyah, Jesse Royal, J Boog and many more.
Reggae Sumfest's week-long takeover begins Sun. July 15, 2018 with a variety of action-packed pre-parties and events before the climax of the 2-day music festival.
Reggae Sumfest festivities
Sun. July 15
Sumfest Colour-Fest Beach Party
@ Tropical Bliss Beach | Doors Open: 3pm | (Ticketed)
Mon. July 16
Sumfest Street Dance
@ Hip Strip, MoBay | Gates Open: 7pm | (Free)
Tues. July 17
All White Party
@ Pier One Restaurant & Bar | Doors Open: 8pm | (Ticketed)
Wed. July 18
The Blitz "All Black" Party
@ (Venue TBD) | Doors Open: 8pm | (Ticketed)
Thu. July 19
The Inspire Awards
@ Iberostar Hotel | 5pm-9pm | (Invitation Only)
Thu. July 19
Reggae Sumfest Presents Irish & Chin's World Clash 20th Anniversary
@ Pier One Event Center | Doors Open: 8pm | (Ticketed)
Tony Matterhorn, Mighty Crown, Ricky Trooper and Pink Panther
Fri. July 20
Sumfest Symposium
@ Montego Bay Conference Center | Time TBD | (Free)
Fri. July 20
Sumfest Festival Night 1
@ Catherine Hall Event Centre | Doors Open: 7pm | (Ticketed)
Popcaan, Aidonia, Bounty Killer, Sizzla, Spice, Tommy Lee Sparta, Agent Sasco, Ding Dong, I-Octane, Stonebwoy, Harry Toddler, Yanique, D-Major, Kemar Highcon, Dance Expressions, Govana, Tosh Alexander, Shano, Jah Fabio, Kim Nain, Rygin King, Vanzo, G Don V, Press Kay Plus special guest stars
Sat. July 21
Sumfest Festival Night 2
@ Catherine Hall Event Centre | Doors Open: 7pm | (Ticketed)
Damian "Jr. Gong" Marley, Beres Hammond, Maxi Priest, Cham, Capleton, Raging Fyah, Jesse Royal, J Boog, Fantan Mojah, Keznamdi, Empress Ayeola, Naomi Cowan, Jah Dore, D'Yani, Stushi, plus special guest stars
Sun. July 22
Sumfest Medz "Tailgate" Party
@ Dump Up Beach | Start: 8am | (Ticketed)