(PICS + VIDEO) Bob Marley's old Land Rover Restored for 70th Birthday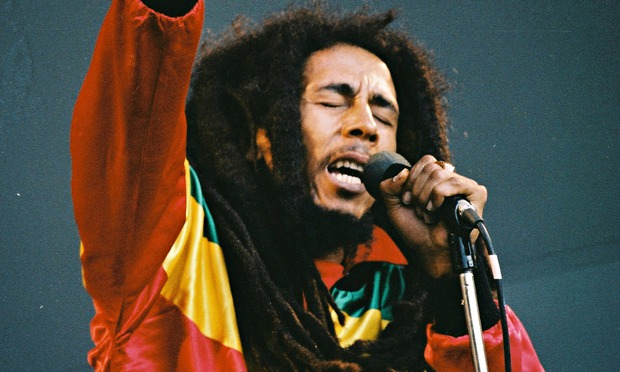 Bob Marley was born on Feb 6th, 1945, in St. Ann. His mom at the time was an 18 year old Jamaican native, and his dad was a 50 year old white navel captain. The couple got married in 1944 a year before Bob was born. In 1950 Marley moved to Trench Town - Kingston. After Marley dropped out of school he became interested in music. In early 1962 Bob Marley, Bunny Livingston, Peter McIntosh, Junior Braithwaite, Beverley Kelso and Cherry Smith formed a ska & rocksteady group called "The Teenager" which later became The Wailing Rudeboys it was changed again to The Wailing Wailers and eventually became The Wailers .
Bob Marley has been a great influence in the lives of many present day musical artists and other performers. He grew up listening to the legendary Fats Domino, Ray Charles, Curtis Mayfield, the Drifters and Louis Jordan.
Bob Marley would put his first record out on wax in February of 1962, the song was called "Judge not." When it came out it was an instant hit locally, but his international fame would not spread for a couple of years.
In 1969, the Wailers first tape was recorded, they were sent to England and released on Trojan records, it was Bob Marley and the Wailers first album and was titled 'Soul Rebels'. This album was only released in Jamaica and England and sold well. titled 'Exodus'
In 1976 'Rastaman Vibrations' was released and the album made its way on to the American charts.  In December of 1976, an Assassination attempt took place at his house and Marley was shot. Another album was released and stayed on the European charts for 56 weeks.
In May of 1977 during the Exodus tour he was playing football and injured his toe. The injury never healed, and he never got it treated and continued on his tour.
Marley's last concert would be in Pittsburgh on Sept. 23, 1980 at the Stanley Theater. He would undergo many different treatments to keep him alive longer, but on May 11th, 1981, Bob Marley died at the age of 36 from cancer.
Although Bob has been dead for years, his music lives on through his sons: Stephen, Ziggy, Julian and Kymani.  

Bob Marley

 not only was one of the greatest musicians in the history of music, he is also one of the greatest men in the history of the world, through his music he not only touched the lives of his fellow countrymen and he has influenced the lifestyles, attitudes and feelings of people all over the world.
++++++++++++++++++++++++++++++++++++++++++++++++++++++++++++++++++++++++++++++++++++++++++++
Mission accomplished! Thanks to ATL motors Bob Marley's old Land Rover has been restored just in time for his recently 70th birthday celebration.

Bob's matte-blue 1977 Series III Land Rover, which was left sitting to rust following the singer's death over 30 years ago, has been completely restored  thanks to the Caribbean's number one resort company Sandals Resorts International, ATL Automotive, ITC — the regional distributors for Land Rover as well as the Marley Family.

Chief Executive Officer for Sandals Resorts International, Adam Stewart, said that he was extremely honored and proud that he and his team could give something back to a man who had given so much, not just to theJamaica, but the world.

    "Bob really raised the profile of our nation, and we felt the greatest gift we could give to him was to restore his original Land Rover to its former glory. Marley's Land Rover is one of the most famous vehicles in automotive history and we were delighted when the opportunity arose to be a part of its restoration. For us, it has been an unbelievable privilege working with the entire Marley family and to reunite them with the same vehicle they rode around in as children is something we were only too pleased to do," said Stewart.


Stewart also added that whilst the ATL team handled all the muscle work, it was the contribution of Marley's first-born daughter and internationally acclaimed fashion designer, Cedella, that gave the project its final authenticity.

    "We stripped the vehicle down to its shell, rebuilding it piece by piece, but it was Cedella who gave it the Marley touch, designing and upholstering the interior in a modern Rasta aesthetic, a fashion we're sure her dad would absolutely love," said Stewart.


Cedella shared her honour in being involved in the restoration project citing it was the perfect gift for her dad's birthday: "In this 70th year, the Defender's return to its home is in perfect timing as we celebrate all aspects of our father Bob Marley on his birthday today. The Marley family thanks ATL, ITC and Sandals for this labour of love. I would also like to thank Bali and Rohan for their vision, which is now a reality," she said.